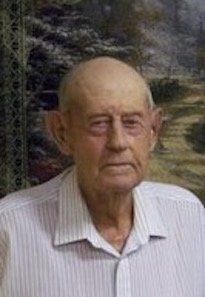 Obituary of Wilford Bufe
Services for Wilford Bufe, 92, of Hale Center, TX, will be held at 2:00 pm Wednesday, August 30, 2017, in the Abernathy Church of Christ with David Bennett and Randall Carr officiating. Burial will follow in the Abernathy Cemetery under the direction of Abell Funeral Home & Flower Shop of Abernathy, TX. The Bufe family will gather at Abell Funeral Home to receive friends from 6:00 pm until 7:30 pm, Tuesday, August 29th.
Mr. Bufe died Sunday, August 27, 2017, in Lubbock, TX.
He was born November 14, 1924 in Lubbock to Gus and Lois (Wright) Bufe. His Mother, Lois, died when Wilford was 19 years old. He graduated New Deal High School in 1942 and married Faye Jennings February 5, 1944 in New Deal. He farmed in Hale County, moving into the Hale Center community in 1956. He turned his farming over to son, Harold, in 1991, and together they farmed another 6 years. Wilford continued doing farm work until retiring in 2009. He was a member of the Church of Christ.
He was preceded in death by his Mother, Lois Bufe, Step-Mother, Beatrice Bufe in 1991, granddaughter, Lori Bufe, August 30, 2009 and his wife of 65 years, Faye, October 9, 2009.
He is survived by 2 sons, Howard Bufe of Celina, TX, Harold Bufe and wife Linda of Abernathy, 2 grandchildren, Cheri Liess and husband Jake of Abernathy, Ryan Bufe and wife Ashley of Sundown, TX, and 6 great grandchildren, Taelor and Addison Liess, Brock, Ryder, Camden and Beau Bufe.
The family suggests memorials be sent to the American Cancer Association or to Hands of Compassion Ministry, 840 West Center Street, Rochester, MN 55902.