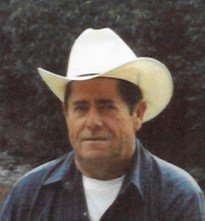 Obituary of James Creed Wisdom
Graveside services for James Creed "Jim" Wisdom, 77, Summerfield, TX, will be held at 10:00 am Friday, August 17, 2018 in the Abernathy Cemetery. The family will gather to receive friends from 6:00 pm until 7:30 pm, Thursday, August 16th, at Abell Funeral Home. Services are under the direction of Abell Funeral Home & Flower Shop of Abernathy, TX
Mr. Wisdom died Monday, August 13, 2018, in Amarillo, TX.
He was born September 12, 1940 on the Shawver Ranch, Gilliland, TX. He graduated from Abernathy High School in 1960 and worked for Gary Schumacher for 20 years, prior to that he drove a truck. He was a farmer and family man, and "had a heart of love". He married Katheren "Kathy" Christie in Lampasas, TX on November 30, 1991.
He was preceded in death by a brother, Charles Wisdom.
He is survived by his wife Kathy Wisdom of Summerfield, 6 children, Tonya Wisdom, Sidney Wisdom and wife Shelly, Doyee Ray and husband Roger all of Abernathy, Chris Gregory and wife Donna of Livingston, TX, Tycie Bowen and husband Kent of Amarillo, TX, and Tiffany Seaton and husband Justin of Summerfield, 18 grandchildren, 14 great grandchildren, (one on the way), sister Betty Ann Neve and husband Wilson of Abernathy and numerous nieces and nephews.
The family suggests memorials to the Legacy Nursing and Rehab, 4033 SW 51st Ave, Amarillo, TX 79109.