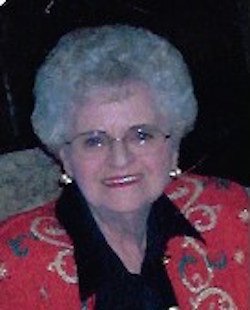 Obituary of Dixie Louise Barton
Graveside services for Dixie Louise (Neis) Barton, 89, of Abernathy, TX, will be held at 10:00 am Monday, July 23, 2018, in the Abernathy Cemetery. Services are under the direction of Abell Funeral Home & Flower Shop of Abernathy.

She was born October 28, 1928 to Harlow Richard and Jessie Routh (Day) Neis, on the family farm East of Abernathy. She graduated Abernathy High School at the age of 16 and later attended Lippert Business College in Plainview, TX. She married Joseph James Barton III, February 23, 1947 in Abernathy. She enjoyed working in her yard and garden, and was a member of the Junior Study Club and 2 bridge clubs. She was a member of the Abernathy First United Methodist Church. According to Dixie, her greatest pleasure was her children, grandchildren and great grandchildren.

Mrs. Barton was preceded in death by her parents, husband Joseph James Barton III, a sister, Lorna Jo Sarri and her husband Jack, a sister-in-law, Joyce Neis and nephew Randy Neis.

She is survived by 2 sons; Jim Barton and wife Sharon of Joshua, TX, and Tim Barton and wife Debbie of Abernathy, 5 grandsons, Jody Barton and husband Jeff Nixon, Stoney Barton and wife Staci, Justin Barton and wife Tish, Chris Barton and wife Trisha and Brady Barton and wife Lauren, 3 step grandchildren, Summer Cashion and husband Jamie, Chans Rich and wife Emily and Brandon Rich and wife Tannis and 24 great grandchildren, a brother Lindy Neis of Plainview and a sister, Nancy Allen and husband Dorman of Abernathy.
The family will receive friends at the home of Tim Barton, Abernathy, on Sunday afternoon, 4:00 until 7:00 pm.

The Barton Family suggests memorials be sent to a favorite charity.