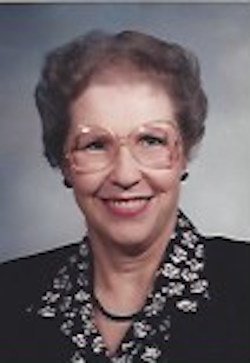 Obituary of Mary Snodgrass
Mary Jo Smith Snodgrass, 86, died in Lubbock on November 15, 2017 as a result of complications from Alzheimer's. A visitation with the family will be held Thursday, November 16, from 6:00 -700 PM at the Abell Funeral Home in Abernathy. After a private burial, a memorial service will be held at First Baptist Church, Abernathy, on Friday, November 17 at 2:00 PM. Friends and visitors will be invited to remain and visit with the family after the service. Services are under the direction of Abell Funeral Home and Flower Shop of Abernathy.

Mary Jo was born in Fort Worth, Texas on August 28, 1931. She was raised in Fort Worth and Hurst, Texas, graduating from Carter Riverside High School in 1948. That summer, she and her family moved to Abernathy where her father, Lee Roy, and grandfather, Robert Stevens, purchased a grocery store, Smith's Thriftway, which remained in the family until 1979.

She worked for the Thompson John Deere House and met Y.F. Snodgrass while attending First Baptist Church. Their romance flourished and they were married December 28, 1950 in the first official service in the new church sanctuary. Y.F. was in the Air Force when they were married and she moved with him to Wichita Falls where he was stationed at Sheppard Air Force Base. They later moved to the base in Amarillo where he completed his service in the Air Force.

They moved to Lubbock in 1954 and stayed there, raising four sons together. In 1961 they moved back to Abernathy and began farming, which they continued to do through the present. In addition to raising her family, she took in ironing, made cloths for herself, sons, and others in the community and was the ultimate rock of the family. She began work as a secretary in the Abernathy School system in 1965 and worked there until 1992. She handled all types of bookkeeping and federal program responsibilities, flawlessly.

While in Lubbock they started a "42" club with eleven other couples from their church. Even after moving to Abernathy, they continued their friendship with those couples once a month. She was known and respected as the ultimate cook and shared her recipes and cooking with everyone.

She was an active church member, and spent more than 3 decades as the director of the nursery. Her patience, wisdom and gracious manner will never be forgotten. She was the ultimate example of the woman described in Proverbs 31:29-30 "Many have done virtuously, but thou excellest them all... A woman that feareth the Lord, she shall be praised."

She is survived by four sons: Don Snodgrass of Abernathy, Kent Snodgrass and wife Liz of Fort Worth, Scott Snodgrass and wife Cindy of Fredricksburg, Kirk Snodgrass of Lubbock; Grandchildren: Craig Snodgrass and wife Amanda of Wichita Falls, Clark Snodgrass and wife Lynn of Lubbock, Beth Snodgrass of Wichita Falls, Clayton Snodgrass and wife Alex of Dallas, Nathan Snodgrass and wife Kelly of New York City, NY, Taylor Snodgrass and finace, Isela Mohr of Lubbock, Devin Snodgrass of Lubbock and Madison Snodgrass of Austin; Four great grandchildren; two former daughters-in-law: Brenda Snodgrass of Wichita Falls, Michelle Sandefur Snodgrass of Lubbock; a sister Ann Pope and husband Leon and brother Jim Bob Smith and wife Roy Fay, all of Lubbock.

Her parents, Lee Roy Smith and Bernice Smith predeceased her, and her husband of 66 years, Y.F. Snodgrass, died earlier this year in June.

Memorials can be made to First Baptist Church, 411 7th Street, Abernathy, TX 79311, or the Abernathy Senior Citizens Center, 717 Avenue C, Abernathy, TX 79311.