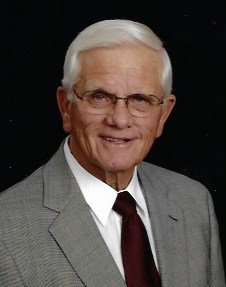 Obituary of Joe D. Oswalt
Please share a memory of Joe to include in a keepsake book for family and friends.
Services for Joe D. Oswalt, 85, of Abernathy, TX, will be held at 10:00 am Friday, April 12, 2019, in the Abernathy Church of Christ with Randall Carr, Steve Gauntt and Harold Bufe officiating. Burial will follow in the Abernathy Cemetery under the direction of Abell Funeral Home & Flower Shop of Abernathy. The family will gather to receive friends from 5:00 pm until 6:30 pm Thursday evening, April 11, 2019, at Abell Funeral Home.
Mr. Oswalt died in Abernathy, Tuesday, April 9, 2019.
Joe Doyle Oswalt was born on a farm in South Lubbock, during a sand storm, March 9, 1934, to Doyle J. and Artie (Mitchell) Oswalt. His family moved to Abernathy in December of 1946, where Joe spent the remainder of his life.
Joe farmed and raised cattle in the Abernathy area, owning a tractor before even purchasing his first car. He married Jerry Dell Norris, June 26, 1953 in Abernathy and they were blessed with almost 65 years together when his beloved Jerry preceded him in death on December 31, 2017. Joe was very involved in the Abernathy community. He was active in the Young Farmers Organization during the 1960's, and he and Jerry were honored to be named Abernathy's Outstanding Farm Family in 1995. Joe was known as a supporter of agriculture, local stock shows and the FFA. He was currently serving on the board of directors at First State Bank in Abernathy and was a faithful member of the Abernathy Church of Christ where he had previously served as Decaon and Elder.
He is survived by his 2 children, Cindy Alexander and husband Mack of Lubbock, TX, and Steve Oswalt and wife Lynn of Abernathy, a brother, Jerry Oswalt and wife Claudia of Lubbock, a sister, Sherley Foster and husband Kenneth of Salado, TX. He is also survived by 7 grandchildren, Brad and Carrie Phillips, Bryan and Kate Phillips, Wade and Karen Alexander, Mack and Melanie Alexander, Blake and Holly Oswalt, Clint and Kelly Oswalt and Stephanie and T. J. Thompson, 17 great grandchildren, 2 great great grandchildren and numerous nieces, nephews and dear friends.
The family suggests memorials be sent to the Children's Home of Lubbock, P. O. Box 2824, Lubbock, TX 79408.