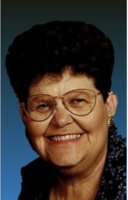 Claudine Cloud Skipper
Services for Claudine Cloud Skipper, 82, of Abernathy, TX, will be held at 2:00 pm Friday, November 22, 2019, in the Abernathy Church of Christ with Sam Billingsley officiating. The family will gather at Abell Funeral Home to receive friends from 6:00 pm until 7:30 pm, Thursday, November 21, 2019. Private burial will be held in the Abernathy Cemetery.
Mrs. Skipper died Tuesday, November 19, 2019, in Lubbock, TX.
She was born June 2, 1937 in Sherman, TX to Johnny and Leah Waunita (Brooks) Cloud. She attended various schools in her early childhood, until the family settled in Abernathy when she was in 6th grade. She graduated Abernathy High School in 1956, where she was a cheerleader and Claudine loved to sing. She married Johnny Skipper January 22, 1957 at County Line, TX. She sang with the Hallelujah Chorus and the Abernathy Community Choir for many years. She was a member of the Church of Christ.
She is survived by her husband, Johnny Skipper of Abernathy, 4 children, LaDawn Skipper of Abernathy, David Skipper and wife Marilou of Abernathy, Leah Godwin of Arlington, TX and Pam Yeaman and husband Terry of Huntsville, TX., 7 grandchildren and 7 great grandchildren, 1 brother, Richard D. Cloud of Wolfforth, TX and 2 sisters, Brooksie Harry of Lubbock and Johnlynn Fox of Vine Grove, KY.