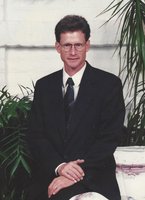 Toby Nathan Barrick
Toby Nathan Barrick, 57, died peacefully in his sleep at his home in Phoenix, Arizona on Monday, November 4, 2019.
He was born November 28, 1961 in Asbury Park, New Jersey to Wendell and Sally Barrick. On November 2, 1996 he married Lynn Ellen Miller.
Toby spent his early youth with his family in a number of locations in Texas and California before they settled in Abernathy when he was in 6th grade. He graduated from Abernathy in 1980. While in high school he was a lead singer in a young gospel music group that performed over the Texas South Plains and Panhandle area.
In Phoenix Toby parleyed his interest in computers into a job with American Express Corporation in 1999 as an Information Security Specialist. He obtained his CISSP (Certified Information Systems Security Professional) in that same year. Toby's insight into computer and network vulnerabilities earned him a citation in the acknowledgements of Mark S. Merkow's (a friend and colleague) book, Internet the Complete Guide to Security, published in 2000 by AMACOM. In 2002 Toby was recruited by IBM Corporation where he served both as an Advisory Software Engineer and later as a Managing Consultant. He earned his PCI/QSA (Payment Card Industry Qualified Security Assessor) certification in 2007. Professional affiliations included the HTCC (High Tech Crime Consortium).
Toby is survived by his wife Lynn Miller Barrick of Phoenix;, his father, Wendell Barrick, of Leander, TX.; brother Jonathan Todd Barrick and wife Christie of Rockwall, TX; daughter Sarah N. (Barrick) Allen and husband Anthony of Albuquerque, NM.; son Michael Barrick-Gilbert and wife Desiree of Lubbock, TX; and grandson Ronald James Barrick-Gilbert of Lubbock. He was preceded in death by his mother Sally (Connell) Barrick, August 19, 2014.
A memorial service will be held at 2:00 p.m. on Saturday, November 16, 2019 at the First Baptist Church of Abernathy, TX, under the direction of Abell Funeral Home & Flower Shop of Abernathy, TX.