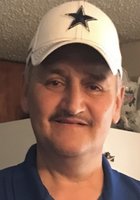 Daniel M. Lopez
Rosary for Daniel M. Lopez, 56, of Abernathy, TX, will be recited at 7:00 pm Tuesday, November 5, 2019, in St. Isidore Catholic Church with Rev. Brian Wood officiating. Funeral Mass will be celebrated at 10:00 am Wednesday, November 6, 2019, in St. Isidore Catholic Church with Rev. Brian Wood and Rev. Jacob Puthuparambil and Deacon Roy Garibay officiating. Burial will follow in the Abernathy Cemetery under the direction of Abell Funeral Home & Flower Shop of Abernathy, TX.
Daniel died Saturday morning, November 2, 2019 at his home in Abernathy, TX.
He was born July 1, 1963 in Lamesa, TX to Felipe and Mary "Nena" (Maldonado) Lopez. The family moved to Abernathy when Daniel was one year old and he graduated from Abernathy High School in 1981. He went on to graduate from South Plains College in 2004 with his Driver Training Certification. He married Melissa M. Cantu, July 14, 1984 in Abernathy and they were blessed to have 2 sons, Zachary R. Lopez and David M. Lopez. He worked as a truck driver with Martin Transport, Labatt Food Service, McLane High Plains and briefly at Lubbock ISD in the Warehouse Department.
Daniel was a humble, selfless man who was a true family man. He was an avid Dallas Cowboys and Texas Tech Red Raider fan. He was a member of St. Isidore Catholic Church where he was a Cursillista, served as an usher and served on the Men's Committee.
He was preceded in death by his father, Felipe Lopez, Sr., a sister, Minerva Lopez and 2 brothers, David Lopez and Felipe Lopez II, a niece Destiny Rae Kent and his grandparents. He was also preceded in death by his Father-in-law, Agapito Cantu, Sr. and Mother-in-law, Augustina Cantu, and Sister-in-law, Irma Saenz.
He is survived by his wife, Melissa Lopez, 2 sons, Zachary Lopez and David Lopez, all of Abernathy, his mother, Mary "Nena" Lopez of Abernathy, 2 brothers, Luis Lopez and Felipe Lopez, Jr. and wife Cindy, all of Abernathy, 2 sisters, Hilda Lopez of Lubbock, TX and Rachel Lopez of Abernathy. Daniel also loved his in-laws as his brothers and sisters, and they survive him, Pete Cantu and wife Barbara of Lubbock, Irene Rodriguez, Beatrice Rios and Belinda De Los Santos and husband Noe, all of Abernathy and many nieces, nephews and Godchildren.