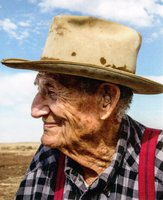 Billy Fortenberry
Billy Fortenberry harvested his last crop on October 3, 2019.

Funeral services for Billy Fortenberry will be held at 10:00 A.M. Monday October 7, 2019 at the First Baptist Church, Abernathy, Texas. Burial with Military Honors will follow immediately in the Abernathy Cemetery under the direction of Abell Funeral Home & Flower Shop of Abernathy.

A reception will follow for family and friends at the Fellowship Hall, First Baptist Church.

The son of W.O. and Bonnie (Hutchins) Fortenberry was born March 18, 1924 in Amarillo, TX. The family moved to Monroe, TX, later known as New Deal, in 1931. After graduation from New Deal High School in 1941, Billy attended Texas Tech where his college career was interrupted by World War II. He joined the U.S. Marine Corps in 1942 and served as a navigator flying a C-47 in the South Pacific, participating in aerial action in the Western Carolinas, Leyte, Luzon, Marianas Islands Iwo Jima and Okinawa operations. After discharge from the Marines, Billy returned to New Deal and resumed farming and working with his father in the cotton ginning business. He married Jean Smith on April 25, 1946; she preceded him in death in 1999. He incorporated his farming operations in Lubbock and Hale County as Lone Oak Farms, after the East Texas town where his grandfather homesteaded. An engineer at heart, Billy maintained a farm shop where he fabricated farm equipment. Billy served on the school board, was a charter member of the New Deal Lions Club and was ordained as a deacon in the First Baptist Church. He served as the first Mayor of New Deal, was instrumental in the installation of the town's water system and donated land for the water tower. His interests included firearms and airplanes - he was a gunsmith and pilot over the years.

His wife Jean, parents and sisters Imogene Bowman and Betty Smith and brother Joe Fortenberry preceded him in death.

W.O. Fortenberry Jr. is survived by his three children - Dr. Sandy Fortenberry & Larry Baggett, Suzanne Fortenberry Hamilton & Gary, and Steve Fortenberry. He was Pop to six grandchildren - Talana Hamilton, Kyle Hamilton, Cole Hamilton and wife Kyla, Seth Fortenberry and wife Katie, Tye Fortenberry, and Kelby Fortenberry. He delighted in six great-grandchildren - Clara, Hannah, Collier and Hunter Hamilton, and William and Ava Fortenberry. Other survivors include brother-in-law Ed Smith, sister-in-law-in-law Carolyn Fortenberry as well as nieces and nephews.

The family thanks Teresa Moore Myers for her compassionate care as Pop's personal assistant.
The Fortenberry family suggests memorials be sent to the Bayer Museum, 1121 Canyon Lake Drive, Lubbock, TX 79403 or to Mustard Seed Ministries, 1008 8th Street, Shallowater, TX 79363