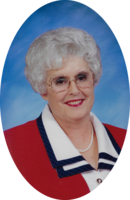 Shirley Overstreet
Services for Shirley (Beard) Overstreet, 83, longtime resident of Petersburg, TX, will be held at 10:00 am Saturday, October 5, 2019, in the Petersburg First Baptist Church. Rev. Roger Foote and Rev. Jesse Nave will officiate services. Burial will follow in the Petersburg Cemetery under the direction of Abell Funeral Home & Flower Shop of Abernathy, TX.
Mrs. Overstreet died Wednesday, October 2, 2019, in Lubbock, TX.
She was born August 27, 1936 in County Line, TX to Charles Pinkney and Willa Mae (Jackson) Beard. She married Les Duane Overstreet, February 14, 1953 in Portales, NM and graduated from Abernathy High School in 1954. They moved to Petersburg from Abernathy, TX December of 1955. Shirley, along with several other ladies in the Petersburg community, were instrumental in beginning the Library. She was the Petersburg Public Librarian for 36 years, retiring in 2014. She served on the Petersburg Library Board and was a Texas Certified Public Librarian. Shirley was a longtime member of the Petersburg First Baptist Church, where she taught Vacation Bible School for many years. She was President of the Women's Missionary Union and served as Secretary Treasurer for the Petersburg Senior Citizens.
Shirley was preceded in death by a son, Ken Overstreet in 1985, and 2 brothers, J. D. Beard and Billy Beard, and a granddaughter Joscelyn Caudle.
She is survived by her husband, Les Overstreet of Petersburg, 3 children, Charles Overstreet and wife Kathy of Floydada, TX, Joyce Overstreet and Johnie Smith of Kress, TX and Elaine Foote and husband Roger of Plainview, TX, brother, Don Beard and wife Jill of Lubbock, TX, Zera Presley and Glenn Nitsch of Klein, TX, 10 grandchildren, 15 great grandchildren and 1 great great grandson.
The family suggests memorial contributions be made to Texas Boys Ranch, Box 5665, Lubbock, TX 79408 or to the Petersburg Public Library, 1614 Main Street, Petersburg, TX 79250