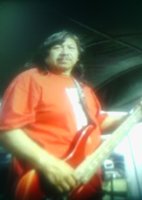 Fermin Arizpe Barron
Funeral Mass for Fermin Arizpe Barron, 64 of Abernathy will be celebrated at 10:00 am Thursday, September 5 in the St. Isidore Catholic Church with Rev. Brian Wood, pastor officiating. Rosary will be recited September 4, 7:00 pm at St. Isadore Catholic Church. Burial will follow in the Abernathy Cemetery. Cremation and services are under the direction of Abell Funeral Home & Flower Shop of Abernathy, TX.
Mr. Barron died August 26, 2019.
He was born January 14, 1955 in Mexico, to Faustino and Dolores (Arizpe) Barron. He married Rosa Maria Gatica August 13, 1975 in Abernathy. He worked for Gouls Pump in Lubbock, TX. Fermin lived in Abernathy off and on for 35 years, but always found Abernathy to be home. He enjoyed getting to be on stage and playing his bass guitar. Fermin loved the outdoors, especially camping, being at the lake and bar-be-queing. He enjoyed the challenge found in a game of pool. He loved his family, but his real joy was being with his children and grandchildren. One of his favorite quotes was "Near or far, wherever you are, when together or apart, the thought of family warms the heart".
He is preceded in death by his parents, and sisters, Maria Andrea Perez and Elonor Montoya.

He is survived by his wife, Rosa Maria Barron of Abernathy, 6 children, Laticia Barron of Abernathy, Fermin Barron III of Big Spring, Dionicia Barron, Virginia Barron, Valencio Barron, and Juan Fermin Barron VI all of Abernathy, 11 grandchildren, 2 great granchildren, sisters, Juanita P. Ezparza of Abernathy, Inez G. Luera of Petersburg, Fransica Palomo of California, brothers Jose M. Barron of Lubbock, Jesus Barron Arizona, and close friend Esperanza Gonzalez.