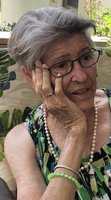 Betty Ruth Stevenson
Services for Betty Ruth Stevenson, 89, of Lubbock, TX, will be held at 2:00 pm Saturday, August 24, 2019, at Abell Funeral Home with Rev. Marilyn Perrine officiating. Burial will follow in the Abernathy Cemetery under the direction of Abell Funeral Home and Flower Shop of Abernathy, TX.
Mrs. Stevenson died Wednesday, August 21, 2019, at her home in Lubbock.
She was born July 19, 1930 in Tahoka, TX to Eldred Guy and Violet (Hall) Todd. She had always lived on the family farm North of Lubbock. She married Glen Worsham, July 31, 1948, in New Deal, TX, following his death in 1988, she married Herman Stevenson, February 23, 1996 in New Deal. She was a member of the New Deal First Baptist Church for over 70 years, where she was a faithful servant who loved singing in the choir and loved her Lord and church. The main focus of her life was caring for her family, making many sacrifices for them with grace and dignity. She was the perfect example to her children of Christ's unconditional love. She was a longtime employee of Furr's Supermarket, retiring after 38 years of service.
Mrs. Stevenson was preceded in death by her husband, Glen Worsham on December 2, 1988, a daughter, Cynthia Jane Worsham, November 27, 1951, a brother Bill Sherrod and sister Martha Ellen Hogenmiller.
She is survived by her husband Herman Stevenson of Lubbock, a son, Danny Worsham and wife Paulette of Lubbock, 3 daughters, Debbie Weaver and husband Robert of Hobbs, NM, Connie Self and husband Mike of Pasco, WA and Sharon Kelley and husband Tony of DeSoto, TX, 12 grandchildren, David, Michelle and Paul Worsham, Trey and Aaron Weaver, Jennifer Olivarez, Steven Davenport, Jeffery Attebury, Crystal Kelley, Penny Sanchez, Alysia Swaringen and Jeremy Kelley, 15 great Grandchildren and 2 on the way, a sister, Doris Moyers and husband Steve of Angleton, TX and an adopted family member, Amanda Piseno.
The family want to express their appreciation to Amanda Piseno, beloved adopted family and caregiver, for her devotion to Betty Stevenson and all the family.