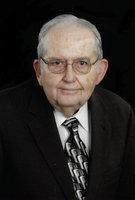 J. Charles O'Neill
Services for J. Charles O'Neill, 91, of Abernathy, TX, will be held on Wednesday, July 10, 2019 at 2:00pm in the First Baptist Church, Abernathy, with Rev. Dennis Teeters officiating. The family will gather to receive friends at Abell Funeral Home on Tuesday, July 9, 2019 from 5:30 - 6:30pm. Burial will follow services in the Abernathy Cemetery under the direction of Abell Funeral Home & Flower Shop of Abernathy.
Mr. O'Neill died Sunday, July 7, 2019 at his home.
He was born on April 27, 1928 to Rev. James L & Eunice (Cook) O'Neill in Springer, NM. They moved to Abernathy in 1948 where he lived the remainder of his life. Mr. O'Neill met his wife, Velma Fuller on his birthday, and they were married 10 months later on March 12, 1960 in Lubbock, TX.
Mr. O'Neill was preceded in death by his wife, Velma O'Neill on December 26, 2007, and a sister, Martha Oswalt.
He is survived by his 2 daughters Sara Muse (Joe Michael) of Abernathy and Mary O'Neill (David Gandy) of Plainview, 2 grandchildren Gordon Muse and Makaela Muse , 1 sister Freda Taylor (Hays) of Canyon, TX and numerous nieces and nephews.
The family suggests memorial donations be made to the First Baptist Church Building Fund, 411 7th Street, Abernathy, TX 79311.