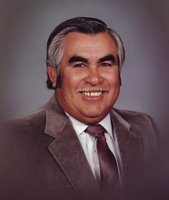 Luis Ortiz
Graveside services for Luis Ortiz, 81, of Lubbock, TX, will be held at 10:00 am Thursday, June 20, 2019, in Peaceful Gardens Memorial Park, Lubbock, TX, with Dub Hannel officiating. The family will gather at Abell Funeral Home to receive friends from 6:00 pm until 8:00 pm Wednesday, June 19th. Services are under the direction of Abell Funeral Home & Flower Shop of Abernathy, TX.
Mr. Ortiz died Monday, June 17, 2019, in Lubbock, TX.
He was born May 2, 1938 in Edroy, TX to Luis Ortiz, Sr. and Placida (Lara) Ortiz. Luis married Lupe Villarreal June 26, 1956 in Mathis, TX. They moved to Abernathy from Mathis, March 29, 1959 and he worked for Clark Equipment as warehouse supervisor and later was employed with the Lubbock State School. Luis was a member of the Church of Christ and was a volunteer for SPAG (South Plains Association of Governments)., and on May 2, 2013 they moved to Lubbock where he lived until his death.
He is preceded in death by 11 siblings and a granddaughter, Vanessa Leigh Ortiz in 1999.
He is survived by his wife of 62 years, Lupe Ortiz of Lubbock, 5 children, Luis Ortiz III and wife Martha of DeSoto, TX, Joe Ortiz and wife Peggy of Abilene, TX, Linda Lopez and husband Sabino of Lubbock, Gilda O'Neall and husband Bryan of Lubbock and Yolanda Salvidar and husband Zeke of Ransom Canyon, TX, 20 grandchildren and 36 great grandchildren.
The family suggests memorials be sent to the Sunset School of Preaching, 3723 34th Street, Lubbock, TX 79410 or to the Children's Home of Lubbock, P. O. Box 2824, Lubbock, TX 79408.