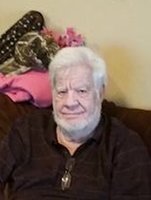 Granville Lee Booth
Graveside services for Granville Lee Booth, 80, of Slaton, TX, will be held at 2:00 pm Thursday, May 23, 2019, in the Abernathy Cemetery with Rev. Bill Parmer, of Wilson, TX, officiating. The family will have public viewing from 10:00 am until 12:00 pm, Thursday, prior to the Graveside service. Services are under the direction of Abell Funeral Home & Flower Shop of Abernathy, TX.
Mr. Booth died at his home in Slaton, Monday, May 20, 2019.
He was born in Lamesa, TX, October 17, 1938 to George Armour and Lizzie Blanche (Laramore) Booth. He married Ruby Haney, January 8, 1960. They lived in the Abernathy area since the early 1960's. Granville Lee was a good babysitter, loved going to the lake, fishing and traveling to visit family. His family was his priority. He always had candy for the grandkids, and was known as "keeper of the candy". He was a ranch foreman for the Sandcreek Ranch in Southland, TX. While living in Abernathy he was a mechanic and loved fast cars. He was a member of the Charateers, a car club, in Hobbs, NM.
He is preceded in death by his parents, and 6 siblings, Robert Elmer, Mattie Armour, Vallie Lucille, Enoch Jackson, Calvin Odell and Lillie Faye.
He is survived by his wife, Ruby Booth of Slaton, TX, 2 children, Gerri René Rackler and Kelly Bryant Booth both of Slaton, 2 grandchildren, Courtney Rackler Tijerina and husband Jesse of Slaton, and Jared Rackler of Nashville, TN, 5 great grandchildren, Jesse, Martin, Cory and Jayson Tijerina and Bayleigh Rackler and a sister-in-law, Laveta Booth.