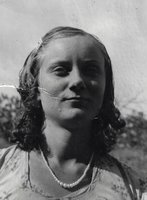 Nancy E. Parker
Graveside services for Nancy E. Parker, 87, of Allen, TX, will be held at 2:00 pm Friday, May 3, 2019, in the Abernathy Cemetery with Randall Carr officiating. Services are under the direction of Abell Funeral Home & Flower Shop of Abernathy.
Mrs. Parker died Tuesday, April 30, 2019, in Allen, TX.
She was born November 23, 1931 in Gainesville, TX to David Franklin and Eula (Cox) Hood. She married J. W. Parker, February 20, 1953 in Tioga, TX. They moved to Abernathy in the mid 1960's from East Texas. While living in Abernathy she attended the Church of Christ and loved reading her Bible. In December of 2001, following the death of her husband, J. W. earlier that year, she moved to Allen, TX, where she lived until her death.
She was preceded in death by her husband, J. W. Parker, June 20, 2001, and her son, Frank Parker December 8, 1986.
Mrs. Parker is survived by 3 children, Ronald Parker of Kansas, Freda Marcum and husband Jeff of Allen, TX, and Mary Jane Tiner and husband Mike of Lubbock, TX, 6 grandchildren and 10 great grandchildren.