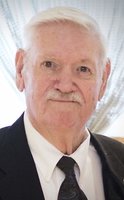 Buddy Rodger Goldston
Graveside services for Buddy Rodger Goldston, 85, of Flower Mound, TX, will be held at 10:00 am Friday, April 19, 2019, in the Abernathy Cemetery under the direction of Abell Funeral Home & Flower Shop.
Buddy Rodger Goldston was born in Abernathy on October 4, 1933, to William Riley and Leola (Brown) Goldston. As a child he witnessed the testing of the atomic bomb in Alamogordo, NM. He became a hometown hero playing football for the Abernathy High Antelopes. After graduating, he served in the Army. He spent most of his life in Dallas, TX where he met Rita Goldston. They were married but divorced 8 years later. He adopted her two daughters, Diana and Denise, loving them as if they were his own. He worked for the DEA as a chemist. Upon retirement he moved to Flower Mound to be close to his granddaughters and even traveled twice to China to help pick up two of the girls who were also adopted. He was their hero especially when he told his silly jokes and stories of growing up In West Texas. He was an extremely honest and humble man. He had accepted Christ as his savior before leaving this broken world. He will be in our hearts forever. Buddy passed away on March 26th, 2019 after multiple strokes.
He is survived by his daughter, Denise Smith, his 4 granddaughters, Amy, April, Lilly and Betty, his niece, Stacy, his 5 nephews, Hugh, Bryan, Kyrt, Mark, Darin as well as his two beloved godchildren, Jon and Jena.