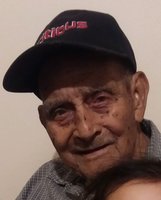 Natividad G. Mendoza
Funeral Services for Natividad G. Mendoza, 93, of Abernathy, TX, will be held at 12:00 pm, Saturday, March 2, 2019, in the Abernathy United Church, 704 Ave. D, Abernathy. Viewing will also be held at Abernathy United, Friday, March 1st from 1:00 pm until 8:00 pm and again Saturday morning, March 2nd, from 10:00 am until service time .Burial will follow in the Abernathy Cemetery under the direction of Abell Funeral Home & Flower Shop of Abernathy.
Mr. Mendoza died at his home Saturday, February 23, 2019.
He was born December 25, 1925 in Mexico to Julio and Ines (Garcia) Mendoza. He married Juanita Torres in Plainview. He has lived in the Abernathy area for over 55 years, and was a member of St. Isidore Catholic Church.
He was preceded in death by his parents, Julio and Ines Mendoza and a son Robert Mendoza.
Survivors include his wife Juanita Mendoza of Abernathy, 8 children, Beto Mendoza and wife Betty of Santa Fe, NM, Manuel Mendoza and wife Patricia, Juanita Vega and husband Juan, Urvana Mendoza all of Lubbock, TX, Ester Torrez and husband Miguel, Josie Reyes and David Mendoza and wife Carolina all of Abernathy, and Natividad Mendoza, Jr. of Amarillo, TX, a sister, Petra Feas of Palomas, Mexico., 42 grandchildren and numerous great grandchildren and great great grandchildren.