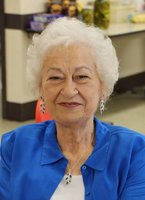 Sybil Lillian Roberts
Services for Sybil Lillian Roberts, 77, of Abernathy, TX and formerly of Plainview, TX, will be held at 2:00 pm Sunday, February 10, 2019, in the Jerusalem Community Baptist Church, Hale Center, TX, with Pastor Terry Wright officiating. Burial will follow in the Center Plains Cemetery, Cotton Center, TX, under the direction of Abell Funeral Home & Flower Shop of Abernathy, TX.
Mrs. Roberts died Friday morning, February 8, 2019, in Plainview.
She was born February 22, 1941 in Hobart, OK to Joseph David and Lillian Esther (Richardson) Scarberry. She married John Henry Roberts, December 3, 1955 in Plainview. They pastored numerous Assembly Of God churches in various communities in Texas, Oklahoma, and New Mexico. While in Texas they lived in Abernathy, Hale Center, Plainview and were longtime residents of Quanah, prior to moving back to Abernathy.
She was preceded in death by 3 sisters and a brother.
Mrs. Roberts is survived by her husband, John Henry Roberts of Abernathy, 5 children, Linda Smith of Altus, OK, Rob Roberts and wife Mary of Quanah, TX, Darrell Roberts and wife Lanora of Abilene, TX, Lisa Garrett and husband Vance of Abernathy and Johnny Roberts and wife Denise of Wichita Falls, TX, 14 grandchildren, 34 great grandchildren with 3 more on the way.