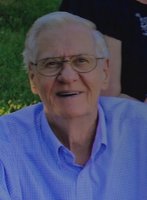 Frank D. Russell
Services for Franklin D. "Frank" Russell, 85, of Abernathy, will be at 10:00 am Thursday, January 10, 2019, in the Abernathy United Church with Rev. Janet Edwards and Rev. Brian Brownlow officiating. Graveside services will be held at 4:00 pm Thursday in the Archer City Cemetery, Archer City, TX. Services are under the direction of Abell Funeral Home & Flower Shop of Abernathy, TX.
Mr. Russell died Monday, January 7, 2019, at his home in Abernathy, TX.
He was born September 22, 1933 in Milano, TX to Randolph and Willie Mae (Bridges) Russell. Frank attended schools in Houston and Cotton Center, TX. Following graduation from Hale Center High School, Hale Center, TX, he enlisted in the United States Army and was stationed in Japan, the Arctic Circle and White Sands Missile Range. After being discharged from the Army, he worked in law enforcement for the next 25 years. He became Police Chief in Andrews, TX and taught EMT classes at Odessa College in Odessa, TX, and was an Ector County Sheriff's Deputy. He moved to Abernathy as Police Chief while also serving as Hale County Sheriff's Deputy. Frank served as City Manager for the City of Abernathy for 18 years (December 21, 1984 until his retirement April 29, 2003) and was a member of the Abernathy First United Methodist Church, now known as Abernathy United.
He was preceded in death by his parents, a son, Kevin Lane Russell on November 8, 2008 and a brother, James Russell.
Survivors include his wife, Linda Gaye Russell of Abernathy, son, Charles "Chuck" Russell and wife Amy of Olathe, KS, 2 grandchildren, Michael Lane Johnston of Lubbock, TX and Gabriel Elijah Russell of Olathe, KS and a sister, Melba Joyce Bradley of Lamesa, TX and several nieces and nephews.
The family suggests memorials be sent to Abernathy United Church, 704 Ave. D, Abernathy, TX 79311.