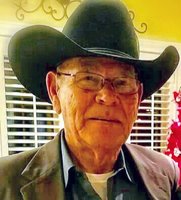 Ned Phillips
Memorial services for Orville Ned Phillips, 78, of Hale Center, TX, will be held at 10:30 am, Monday, December 31, 2018, in the Hale Center First Baptist Church. The family will receive friends at a reception following services, Monday, in the fellowship hall of the First Baptist Church. Services are under the direction of Abell Funeral Home & Flower Shop of Abernathy, TX.
Mr. Phillips died Friday, December 28, 2018 in Hale Center.
He was born February 28, 1940 in Colgate, OK to Miller and Alice (Ferguson) Phillips, moving to Mangum, OK and on to Plainview in 1952. Ned served in the United States Air Force from April 21, 1957 until April 22, 1961 and was stationed in Alaska. He married Beverly Janice Robertson, May 28, 1960 in Plainview, TX. He worked for Galbraith Steele Supply Co. in Lubbock for 27 years and for Amarillo Hardware for several years prior to opening his own hardware and building supply store in Lubbock, retiring in 2010.
Ned lived in Haskell, TX from 1968 to 1974 when they moved to Hale Center. He was active in the Jaycees and Little League in Haskell. In Hale Center, Ned was involved in Little Dribblers, Owl Boosters serving as President and has served on the city's zoning board. He was active with the Plainview Senior Citizens Dance Club for the past 5 years.
He was preceded in death by his wife, Janice, February 28, 2014, parents, 5 brothers and a sister.
He is survived by daughter, Janet Watson and husband Michael of Hale Center, son, Ronald Phillips and wife Jamey, of Lubbock, 3 sisters, Evelyn Broughton, Rosada Bridges and husband Lloyd, Audrey Taylor and husband Don, 2 brothers, Wayne Phillips and wife Marlin and Louis Phillips, 6 grandchildren, Ariel Sutton, Devin Edwards, Austin, Grant, Gavin and Holden Phillips, 4 great grandchildren, Ezekiel Watson, Michael and Elijah Rambo and Shepherd Sutton.
The family suggests memorials to the Hale Center Senior Citizens, 416 W. 2nd, Hale Center, TX 79041, or the the Plainview Senior Citizens, 1107 Smythe St., Plainview, TX 79072