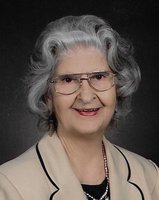 Woodine "Woody" Wiley
Frances Woodine (Hill) Winn Wiley (known as Woody) went to be with her Lord on November 22, 2018. She was born in Caddo, TX on September 22, 1927 to Woodie Whitten and Edith (Higgs) Hill.
She was raised in Big Spring, TX and graduated High School there, in 1944, at age 17 and immediately left for Memphis, TN, to attend Nursing School at the Baptist College of Nursing where she received her RN degree in 1948. Upon returning to Big Spring, she went to work at Malone and Hogan Clinic and Hospital. She served in every facet of nursing found in the hospital and clinic. This was the beginning of a 53 year career resulting in a change to the VA system, a BSN and a Masters degree in Education. Although she was a timid soul, when Woody made up her mind to do something, she did it!
On February 11, 1950 she married R.T. Winn. A marriage that would last until he died in November of 1980. Four years later she married Arvel Wiley and they set up home in Sherman, TX. They later moved to Gilmer, TX to be near to her oldest son, Robert. That marriage blossomed and continued until Arvel's death in 2002.
In 2009 Woody moved to Lubbock to take up residence in the Carillon Senior Living Facility. She lived there and enjoyed her many friends until her death.
Woody is preceded in death by: her Mother, Father and Stepfather Earl Parrish; her two husbands and her sister Edith Mardeena Garret.
Woody is survived by: two sons; Dr. Robert Winn, and wife Melinda of Big Sandy, TX ; Rev. Tim Winn, and wife Beverly of Lubbock, TX; her half-brother; Ronald Parrish, and wife Sue of Malvern, AR; one cousin, Billie Elam of Seminole, TX; five grandchildren: Atty. Brandon Winn and wife Brandy; Kendra and husband Dr. Bryan Smith; Cheryl and husband Gabe Escalante; Rusty Winn and wife Brenda; Brian Winn and wife Bridget; twelve great grandchildren; and a goodly number of friends.
The family will receive friends Monday, November 26th from 6:00pm until 7:00 pm at Abell Funeral Home, Abernathy, TX
Funeral Services will be held at 10:00 am Tuesday, November 27, 2018, in the First Baptist Church, Coahoma, with viewing at the church from 9:00 am until service time. Burial will follow in Mount Olive Cemetery, Big Spring, TX, under the direction of Abell Funeral Home & Flower Shop of Abernathy, TX.