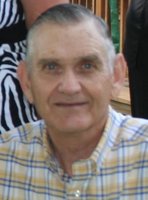 Harley Peoples
Services for John Harley Peoples, 79, of Hale Center, TX, will be held at 2:00 pm Friday, November 23, 2018, in the First United Methodist Church with Rev. Jimmy Cameron and Terry Wright officiating. Burial will follow in the Hale Center Cemetery under the direction of Abell Funeral Home & Flower Shop of Abernathy, TX.
Mr. Peoples died at his home in Hale Center, November 20, 2018.
He was born October 10, 1939 in Shawnee, OK to Ollie Dee and Lillie May (Jones) Peoples. He enlisted in the United States Army in November of 1961 as a mechanic. He was stationed in Fort Benning, GA and Baltimore, MD until his honorable discharge in January of 1964, He married Janet Elmore in Baltimore, MD. They moved to Plainview, TX in 1967 and Harley served as Hale County Reserve Deputy for 15 years, and was a member of the Masonic Lodge in Plainview. They moved to Hale Center in 1984 and he served as an officer for the Hale Center Police Department, becoming Chief of Police in 1986 until 1990. He was a member of the Hale Center VFW, was manager at the Hale Center Chamber of Commerce and served on the Hale Center City Council. He served as youth director and Deacon at Seth Ward Baptist Church.
He was preceded in death by a brother, Allen Peoples.
He is survived by his wife, Janet Peoples of Hale Center, Daughter, Ruth Ann Rackley and husband Kyle of Lubbock, TX, son, Bill Peoples and Fiance, Liza Jimenez of Hale Center, 2 brothers, Jimmy Peoples and wife Martha of Lubbock, and Joel Peoples and wife Lorana of Idaho Falls, ID, 3 sisters, Louanne Bunch and husband Sean, Shirley Rierson and husband Randy all of Amarillo, TX and Joyce Varner of Hereford, TX.
The family suggests memorial contributions be made to a favorite charity.