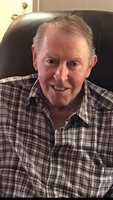 Waymon Jones
Graveside services for Waymon Jones, 81, of Abernathy, TX, will be held at 2:00 pm Thursday, November 15, 2018, in the Abernathy Cemetery. Family will gather at Abell Funeral Home, to receive friends from 6:00 pm until 7:00 pm, Wednesday, November 14, 2018. Services are under the direction of Abell Funeral Home & Flower Shop of Abernathy.
Mr. Jones died Tuesday, November 13, 2018 in Lubbock, TX.
He was born in Sundown, TX, June 29, 1937 to August and Lottie (Young) Jones. He was a graduate of Abernathy High School, Class of 1955. He married Patricia Ann "Pat" Elkins December 7, 1957 in Clovis, NM. Waymon served on the Abernathy City Council and was involved with the Abernathy Senior Citizen Center, where he enjoyed delivering meals with Meals on Wheels. He was an avid golfer and enjoyed watching his grandchildren participate in various activities, sports and stock shows. He was preceded in death by his wife, Pat, August 24, 2013, son, Cary Jones on October 15, 1965 and two siblings, Joan McKinney and Carol Jones.
He is survived by a daughter, Dana Bryant and husband Larry of Abernathy, TX, a son, Cody Jones and wife Michelle of Frisco, TX, 4 grandchildren, Krista Gibson and husband Phil of Abernathy, Erin Cillessen and husband Duane of Alto, NM, Magan King and husband Shiloh of Lubbock, and Dane Jones of Frisco, 3 great grandchildren, Caleb Cillessen of Alto and Hollyn and Madelyn King of Lubbock.
The family suggests memorials be sent to the Abernathy Senior Citizens Center, 717 Ave. C, Abernathy, TX 79311.