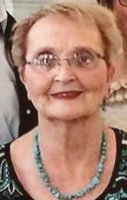 Jayne Montgomery
Graveside services for Margaret Jayne Montgomery, 74, of Abernathy, TX, will be held at 11:00 am Thursday, November 1, 2018, in the Cedar Hill Cemetery, Ozona, TX. Services are under the direction of Abell Funeral Home & Flower Shop of Abernathy, TX.
Jayne died October 28, 2018, in Abernathy.
She was born March 2, 1944 in Ballinger, TX to Dan Carl and Margaret Ardell (Pruitt) Cole. Jayne grew up in San Angelo and moved to Ozona, TX where she attended and graduated from Ozona High School. She graduated from Angelo State University in San Angelo, TX and married Carl D. Montgomery, June of 1964. To that union was born 3 children, Patrick Carlton Montgomery, who died at age 13, on December 22, 1979, Amanda (Amy) Dawn Montgomery, and Benjamin Hunter Montgomery. While living in San Angelo she taught Early Childhood at a Headstart Program from 1973 until 1983 and then taught third grade at Austin Elementary School until 2003 when she retired and moved to Abernathy, TX. She began substitute teaching at Abernathy Elementary in 2003 until 2014.
Jayne enjoyed sewing, reading and being with her children and grandchildren. She attended First Baptist Church in Abernathy and Southcrest Baptist Church in Lubbock, TX.
She is survived by 2 children, Amy Kitchens and husband Mark of Abernathy and Ben Montgomery and wife Baylissa of League City, TX, 5 grandchildren, Jared Patrick Kitchens and wife Sarah Madelline Eads-Kitchens of The Colony, TX, Chandler Mark Kitchens of League City, Sterling Cole Kitchens of College Station, TX, Brooks Landry Montgomery and Blakely Hope Montgomery both of League City.
The family want to express a special appreciation to Angie Perez, her devoted and loving care taker over the past several months.
The family will gather following the graveside service to receive friends at The Hitching Post, 1301 Sheffield Rd, Ozona, TX.
Suggested memorials are to Accolade Hospice, 5201 Indiana, Lubbock, TX 79413, or to a favorite charity.