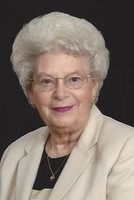 Jerry Dell Oswalt
Services for Jerry Dell Oswalt, 83, of Abernathy, TX, will be held at 2:00 pm Wednesday, January 3, 2018, in the Abernathy Church of Christ with Randall Carr, Steve Gauntt and Harold Bufe officiating. Burial will follow in the Abernathy Cemetery under the direction of Abell Funeral Home & Flower Shop of Abernathy. The family will gather to receive friends at Abell Funeral Home from 5:00 pm until 6:30 pm Tuesday, January 2, 2018.

Jerry died Sunday, December 31, 2017 in Lubbock, TX.

She was born July 16, 1934 in Spur, TX. She married Joe Doyle Oswalt, June 26, 1953 in Abernathy. She was a former member of the 1935 Study Club, and was very active in the Abernathy Community and her Church, the Abernathy Church of Christ, where she also taught Sunday School. She hosted numerous wedding and baby showers at her home over the years, the last one being just this past November. Jerry was a wonderful seamstress and loved china painting. She worked at Hemphill-Wells during the holiday season in the gift wrapping department. She was known as MeMaw, not only by her grandchildren, but her children and many others in the community.

She is survived by her husband, Joe Oswalt of Abernathy, 2 children, Cindy Alexander and husband Mack of Lubbock, and Steve Oswalt and wife Lynn of Abernathy, 7 grandchildren, Brad, Bryan and wife Kate, Wade and wife Karen, Mack and wife Melanie, Blake and wife Holly, Clint and wife Kelly and Stephanie and husband T.J., 13 great grandchildren and numerous other family and friends.

The family suggests memorial contributions be made to the Children's Home of Lubbock, P. O. Box 2824, Lubbock, TX 79408.