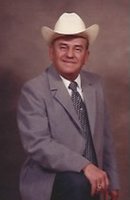 Smokey Faith
Services for H. Doyle "Smokey" Faith, 89, of Hale Center, TX, will be held at 2:00 pm Tuesday, December 12, 2017, in the First Baptist Church, Hale Center, with Rev. Kris Knippa and Rev. Jimmy Cameron officiating. The family will gather at Abell Funeral Home, Abernathy, to receive friends from 5pm-7pm Monday, December 11th. Burial will follow services in the Hale Center Cemetery under the direction of Abell Funeral Home & Flower Shop of Abernathy, TX.
Mr. Faith died Friday, December 8, 2017, at his home in Hale Center.
He was born May 22, 1928 to Hubert Lawton and Virgie Jay (Denney) Faith, in Lone Wolf, OK. The Faith's moved to Hale Center when Smokey was 6 months old, he graduated Hale Center High School and was a member of the Baptist Church. He married Vina Margaret Johnson, September 14, 1946 in Plainview, TX. At the age of 19, he opened a grocery store in Hale Center becoming the youngest merchant owner in town, only to have that record broken by his son, Randy, when he opened a flower shop in town. He was instrumental in building Hale Center's first roping/rodeo arena, worked in Civil Defense for over 40 years and he was a businessman and farmer.
Smokey was preceded in death by his parents, H. L. and Virgie Faith, a brother and his wife, J. T. and Dixie Faith and a brother-in-law, Billy Cannon.
He is survived by his wife of over 71 years, Margaret Faith of Hale Center, a daughter, Cindy McKinney and husband Clyde of Mesquite, TX, a son Randy Faith of Hale Center, 1 sister, Alvine Cannon of College Station, TX, 3 grandchildren, Scott Prather and wife Juli and Amy Barber and husband Brandon all of Combine, TX, and Amber Montes and husband Chris of Mesquite, TX, 6 great grandchildren, Breanna Faith and Brittyn Grace Barber, Kaden Montes, Kameron Montes, Kyndel and Kynzie Montes, 1 niece and 3 nephews.