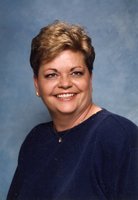 Cathy Elaine Martin

Services for Cathy Elaine Martin, 66, of Lubbock, TX, will be held at 2:00pm, Friday, August 25, 2017, in the First Baptist Church, New, Deal, TX, with Rev. Tim Winn officiating. Burial will follow in the Abernathy Cemetery. The family will gather to receive friends at Abell Funeral Home from 4:00pm until 5:00pm Thursday, August 24, 2017. Services are under the direction of Abell Funeral Home and Flower Shop of Abernathy, TX

Ms. Martin died at her home in Lubbock, TX, Monday, August 21, 2017.

She was born March 31, 1951, in Holbert, OK to Clayton Thomas and Lila Faye (Edens) Martin. She was raised in New Deal and graduated from Dora, NM High School. After moving back to Lubbock in 2003, she became a member of the Red Hatters and the New Deal First Baptist Church. She loved volunteering at the Ronald McDonald House, Family Room and at Covenant Women's and Children's Hospital, where she spent many hours rocking babies and knitted "burial pockets" for miscarried babies. She always enjoyed baking pies and cookies for the firefighters.

She was preceded in death by her Mother, and a son, Buddy "Bud" Shackelford, December 26, 2011.

She is survived by her father, Clayton Thomas Martin of New Deal, a daughter, Nova Shackelford, and fiance, Eric Underwood, a brother, David Martin and wife Jan of Lindsay, TX, 2 sisters, Julia Scott and husband Gary of Lubbock, TX, Tammy Jones and husband Dave of New Deal, 8 grandchildren, Brandon Karmout, Hannah Avara, Kardigan Barton, Faith Miiller, Seth Miller, Kassidy White, Owen Underwood and Evan Underwood and 6 great grandchildren.