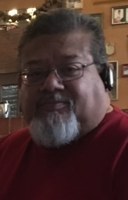 Arnulfo S. Ramos
Rosary for Arnulfo S. Ramos, 58, of Abernathy, TX, will be recited at 7:00 pm Sunday, August 20, 2017 in the St. Isidore Catholic Church. Funeral Mass will be celebrated at 11:00 am Monday, August 21, 2017 in the same church with Rev. Jacob Puthuparambil officiating. Burial will follow in the Abernathy Cemetery under the direction of Abell Funeral Home & Flower Shop of Abernathy, TX.
Mr. Ramos died Friday, August 18, 2017 in Lubbock, TX.
He was born to Jose E. and Magdalena (Salas) Ramos, Sr. June 16, 1959 in San Antonio, TX. Arnulfo graduated from Abernathy High School in 1977 and then attended A & I University iin Kingsville, TX. He worked for the United State Postal Service in Abernathy for 10 years before moving to Grand Prairie where he worked in Human Resources for Poly America for 25 years. Mr. Ramos rerturned to Abernathy iin December of 2015.
He is preceded in deatth by his father, Jose E. Ramos, Sr, and two brothers Jose E. Ramos, Jr. and Ruperto Ramos.
He is survived by his mother, Magdalena Ramos of Abernathy, 3 brothers, Alonzo Ramos of Canyon, TX, Anival "Jack" Ramos of Lubbock, Hector Ramos of Abernathy and a sister, Maria Murdock of Lubbock.