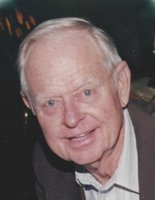 Herbert Allen Rapstine
Rosary for Herbert Allen Rapstine, 94, of Abernathy, TX, loving husband, father and uncle, will be recited at 7:00 pm Friday, March 16, 2018, at St. Isidore Catholic Church. Funeral Mass will be celebrated at 10:00 am Saturday, March 17th, in the same church. Burial will follow in the Abernathy Cemetery under the direction of Abell Funeral Home & Flower Shop of Abernathy, TX. The family will gather from 9:00am Saturday until service time to receive friends at the church.
Mr. Rapstine died Wednesday, March 14, 2018 at his home in Abernathy.
He was born April 14, 1923 in Amarillo, TX, and grew up in White Deer, TX, where he graduated high school in 1942. He married Melleva Waters, September 3, 1944 in Shreveport, LA, prior to reporting for service in the US Army. He served during WWI in France, Germany and Austria. Following his honorable discharge in 1946, he settled back in White Deer. In 1950 they moved to Abernathy where he began farming, in the 1960's he began a farm equipment manufacturing business, Coach Manufacturing, building tractor cabs and other equipment. In the 70's he merged with EMCO in Plainview where he remained until his retirement in 1980. Following his retirement he rebuilt antique cars, Model A and Model T's, he was a remote airplane fan and had previously raced go-karts, anything with fishing, wheels and a motor was his passion. He was a founding member of the St. Isidore Catholic Church.
He was preceded in death by 2 sisters and a brother.
He is survived by his wife, Melleva Rapstine of Abernathy, a daughter, Debbie Rapstine of Abernathy and a son, Dennis Rapstine and wife Janet of San Francisco, CA.