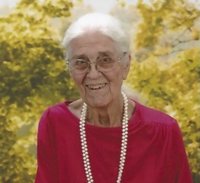 Stella Helms
Services for Stella Helms, 101, of Abernathy, TX, will be held at 2:00 pm Monday at the Abernathy First Baptist Church with Rev. Teddy Teeter and Rev. Glenda West officiating. Burial will follow in the Strip Pearce Chapel Cemetery under the direction of Abell Funeral Home & Flower Shop of Abernathy, TX. The family will gather to receive friends at Abell Funeral Home Sunday, February 25, 2018 from 4:00 pm to 5:00 pm.
Mrs. Helms died Friday, February 23, 2018, at her home in Abernathy.
She was born August 19, 1916 in Hale County to William Irlo and Maggie Ella (Durham) Pierson. She graduated from the Lakeview School and married Audrey Doyle (A.D.) Helms, November 3, 1947 in Plainview, TX, he preceded her in death May of 1996. They moved to Abernathy in 1955. She retired in 1975 from her employment with an insurance company. She loved quilting for missionaries and made many of baby quilts. She was a Sunday school teacher and played the piano at the First Assembly of God. She and her husband bricked their home together and she loved to garden.
She was preceded in death by her parents W.I and Ella Pierson, 6 brothers, Elmer, Joe, D.W., Bill, Walter and Virgil, 3 sisters, Cortez Breeding, Ethel Pierson, Opal Pierson and Hulda Pierson.
She is survived by a daughter; Louise Teeter and husband Teddy of Olton, TX, grandchildren, Michael Teeter of Abernathy, Mark Teeter and wife Mary of Olton, Matthew Teeter and wife Juanita of Olton and Michelle Casares and husband Luis of Abernathy, 13 great grandchildren, 1 great great granddaughter and a host of nieces, nephews and friends.
The family suggests memorials to the West Texas Assemblies of God, 6502 126th Street, Lubbock, TX 79424.