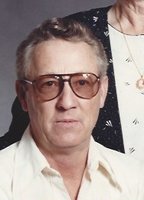 Solon Ray Wilkins
Solon Ray Wilkins was born April 19, 1935 in Encino, N.M. to Myrle and Velma (Gipson) Wilkins. He graduated from New Deal High School in 1953 and lived in Kansas for several years farming with his father and building terraces. He married Wanda Merle Brady, March 28, 1981 in Abernathy. After moving to Abernathy he was employed at Gordon Automotive, later painted houses. After retiring he then worked as a security guard at Texas Tech University.
Mr. Wilkins died Wednesday, January 24, 2018, in Lubbock, TX.
He was preceded in death by 2 brother, Cliff and Mack
He is survived by his wife, Wanda Wilkins of Abernathy, TX, a sister Wanda Mae Kimbrell of Lubbock, 3 step-children, Debbie Dennington of Lakeview, Arkansas, Diane Floyd of Smyer, TX and Troy Wayne Wells of Abernathy.
Cremation is under the direction of Abell Funeral Home & Flower Shop of Abernathy, TX.