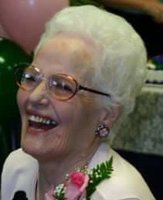 Bonny "Mrs. Bonnie" Blanchard
Memorial services for Bonny "Mrs. Bonnie" Blanchard, 95, of Lubbock, TX, will be held at 2:00 pm Wednesday, January 17, 2018, at Bacon Heights Baptist Church with Rev. Jim Gerlt and Dr. Steve McMeans officiating. Private burial will be held at Peaceful Gardens Cemetery under the direction of Abell Funeral Home & Flower Shop of Abernathy, TX.
Mrs. Blanchard died Monday, January 15, 2018, in Lubbock, TX.
She was born January 6, 1923 in Burbank, OK to John Ross and Ida Mae (Briscoe) Perry. She moved to Purcell, OK at an early age, where she was raised and graduated high school. She was proud to be Choctaw, Italian and English descent. While in Dallas, TX, she met and married Harold "Rick" Blanchard, he was a piano player and she loved jazz! They were married October 6, 1960. They later moved from Dallas to Amarillo, TX and then to Lubbock, TX, where she worked in the Indiana Ave. Baptist Church preschool ministry for over 30 years. She was a member of the Indiana Ave. Baptist Church and the Baptist Women's Group and loved caring for the babies in the preschool.
She was preceded in death by a daughter, Diane Edgmon and husband, Rick Blanchard June 9, 1997.
She is survived by 3 sons, Joel Egmon and wife Judy of Lubbock, TX, Bruce Edgmon of Spanaway, WA and Phillip Mark Edgmon of Weleeka, OK, a nephew, Perry Guest of Dallas, TX, 6 grandchildren, Paige Smith, Shannon Sons, Joel Scott "Joey" Edgmon, Kelly Edgmon Brown, Alex Edgmon and Brian Edgmon, 7 great grandchildren, Shady Lindsay-Webb, Taylor Smith, Kinsey Smith, Noah Escobal, Carson Brown, Brayden Brown, Dillon Edgmon and 2 great great granddaughters, Brooklyn and Breeann Webb.
The family suggests memorials be sent to Lubbock Meals on Wheels, 2304 34th, Lubbock, TX 79411 or to the Indiana Ave. Baptist Church Preschool Ministry, 9507 Indiana Ave., Lubbock, TX 79423.