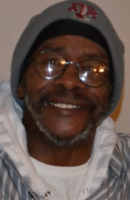 George Marshall Johnson
Services for George Marshall Johnson, 69, of Lubbock, TX, will be held at 1:00 pm Tuesday, January 2, 2018, at Abell Funeral Home with Randall Carr, Abernathy Church of Christ Minister, officiating. Burial will follow in the Hale Center Cemetery under the direction of Abell Funeral Home & Flower Shop of Abernathy, TX.
Mr. Johnson died at his home in Lubbock, Wednesday, December 27, 2017.
He was born in Caldwell, TX, January 18, 1948. He was raised in Hale Center, before moving to California as a young man, where he graduated college in San Bernadino, CA with a degree in Engineering. He was employed in public television. He served his country, in the United States Navy during the Vietnam War.
Mr. Johnson is survived by a sister, Algerita Marshall of Lubbock, TX, 4 nieces, Zandra Wilson, Marshall Wilson, Mary Lee and Lisa Williams and husband Kenneth, all of Lubbock, and 1 nephew, Sammie Wilson, also of Lubbock, and numerous great nieces and nephews.