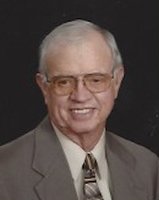 Willie V. Dunn
Memorial services for Willie V. Dunn, 89, lifelong resident of Abernathy, TX, will be held at 11:00 am Wednesday, December 27, 2017, at the Sunset Church of Christ, Lubbock, TX, with Monty Pettyjohn officiating. The family will gather at Sunset Church of Christ from 10:00 am until service time to receive friends. Private burial was held in the Abernathy Cemetery under the direction of Abell Funeral Home & Flower Shop of Abernathy.
Mr. Dunn died Wednesday, December 20, 2017 in Lubbock.
He was born November 10, 1928 in Abernathy to Flim and Elsie (Hazel) Dunn. Willie graduated from New Deal High School in 1946 and farmed in the New Deal and Abernathy areas until opening Dunn Crop Insurance in Abernathy, which he owned and operated until December of 2009, when he sold the business to Jeff Oswalt. He married Willene Owen, April 15, 1949 on the family farm near New Deal, TX. He was an owner of Hygrade Gin and served on the Rural Electric Association, now known as South Plains Electric Cooperative. He served on the Board of Coop Grain and was named Chapter Farmer by the FFA. Mr. Dunn served as Deacon and Elder at the Abernathy Church of Christ for 30 years moving his membership to Sunset Church of Christ in 2009.
He was preceded in death by a sister, Janey Martin and a brother, Earl Dunn.
He is survived by his wife, Willene Dunn of Abernathy, 3 children, Carroll Dunn and wife Margaret of Abernathy, Cindy Dunn of Lubbock and Mike Dunn and wife Darlene of Abernathy, a brother, Franklin Dunn of Abernathy, one sister, Zelma Goldston of Lubbock, a granddaughter, Rachel Payton and husband Brad of Round Rock, TX and a brother-in-law, Orville Martin of Petersburg, TX.
The Dunn family requests memorial contributions be sent to The Children's Home of Lubbock, P. O. Box 2824, Lubbock, TX 79408.