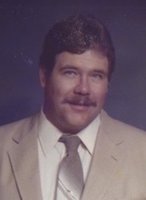 Robert Lynn Presnall
Graveside services for Robert L. Presnall, 59, of Lubbock, TX, will be held at 2:00 pm Thursday, December 21, 2017, in the Hale Center Cemetery with Rev. Randy Cook officiating. Services are under the direction of Abell Funeral Home & Flower Shop of Abernathy.
Mr. Presnall died Friday, December 15, 2017, at his home in Lubbock.
He was born September 16, 1958 to Jack and Wonelee (Stephens) Presnall in Odessa, TX. He earned his Bachelors from Texas Tech University in farm and ranch management. He was a longtime Lubbock resident and was a hunter and was involved in various shooting clubs.
He is preceded in death by his mother, Wonelee Presnall, March 26, 2017.
He is survived by his father, Jack Presnall of Lubbock.