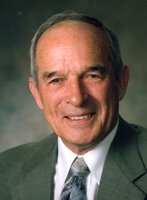 Bill G. Moore
Faithful Christian, devoted husband of 68 years, loving father to 3 children, Bill G. Moore, 91, of Lubbock, TX, went to be with his Heavenly Father Sunday, December 3, 2017 in Lubbock.
Bill was born October 7, 1926 in Frost, TX to Willie E. and Alta (Cook) Moore, where he lived on a farm amongst his family and many aunts, uncles and cousins. He and his father and brother sang gospel at Jones Ranch Church. He served as staff sergeant in the Army. Upon his return from Okinawa he rode the rodeo circuit as a bareback rider and began working for an oilfield company where he met Bonnie Littleton on Armistice Day, 1948. They were married June 3, 1949 in Abernathy, TX. He went to work in a machine shop, eventually starting and operating his own well service in 1953 until moving to Deming, NM, where he opened Ari Tex Machine Shop to work in the irrigation business. Changing his line of work from the water well industry to the oil business, he joined the company of Team, Inc in 1974, working in the petrochemical plants with on-line repairs. In 1984 he transferred to Koppl Company of California but lived in San Angelo, TX. After retirement, he worked as a consultant for South Coast Products of Houston until 2016.
During his retirement, he enjoyed working in his shop and nurturing his half-century old pecan trees. At 88 years old, he danced the two-step with his beautiful wife at their 65th wedding anniversary with family and friends in attendance.
He was very dedicated to his work in the Methodist Church where he worked with the youth, led bible study and held many offices. He was immersed in the Christian community that would be his lifelong support from an early age. He served on many committees, ushered and taught youth group to students as an adult. After moving to Lubbock in 1991 he joined Oakwood United Methodist Church.
He is preceded in death by his parents, Willie and Alta Moore of Frost, TX and a brother, John L. Moore of Maxwell, TX.
He is survived by his loving wife, Bonnie R. Moore, his children, Jeanie Lewis and husband Pat of Conroe, TX, Robert E. Moore of Truth or Consequences, NM, and Patti Campbell and husband Russell of Ropesville, TX, 5 grandchildren, Coby Lewis, Rose Moore, Mikal Moore, Brandon Campbell and wife Madison, Jordan Campbell and wife Laina and 2 great-granddaughters, Zoe and Amelia.
GRAVESIDE SERVICES will be held at 10:30 am, Friday, December 8, 2017, in the Abernathy Cemetery followed by MEMORIAL SERVICE at 2:00 pm, Friday, in the Oakwood United Methodist Church, Lubbock. The family will gather at Abell Funeral Home from 5:00 pm until 6:30 pm, Thursday, December 7, 2017, to receive friends. Services are under the direction of Abell Funeral Home & Flower Shop of Abernathy.
The family suggests memorials be sent to the South Plains Food Bank, 5605 MLK, Jr. Blvd, Lubbock, TX 79404 or to Oakwood United Methodist Church, 2215 58th Street, Lubbock, TX 79412.