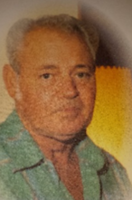 John Tom Adams
JOHN TOM ADAMS
Tom Adams (82) passed away November 30, 2017. Tom was born in Lubbock on February 9, 1935. Graveside Services will be at Abernathy Cemetery officiated by Rev. Joel Perez and Rev. Syl Moore on Monday December 4, 2017 at 11:00 AM. Services are under the direction of Abell Funeral Home & Flower Shop of Abernathy, TX.
Tom graduated from Lubbock High School in 1953. He served in the Air Force from 1953 to 1957. He worked for several years at Reese Air Force Base in the Aviation Department. After he married Dorothy Abbe, in 1963 they moved to Dallas. Tom was employed by Lone Star Steel in the Aviation Department, where he obtained his A&I and A&P mechanic certifications. Tom later owned and operated two service stations in Dallas/Fort Worth area. In his retirement years, his passion was classic cars and throughout the years he completely restored several cars. Tom was very proud of a race car that he built that won the Iron Man trophy in Amarillo driven by his good friend, Jesse Marez.
Uncle Tom and Aunt Dot were not only husband and wife, but were also best friends and constant companions-when you saw one you saw the other. They had a life full of friends, family, and adventures. Tom was a mentor to many of his nieces and nephews that will miss him dearly.
Tom is preceded in death by: son, Mark Adams, parents, D.D. and Lou Adams, brother Don and wife Von Seth, nephews, Barry Womack, Carl Laffoon and Kyle Laffoon.
Tom is survived by his wife, Dorothy Adams, brother, Bill and wife Sharon Adams, aunt Lorraine McFarland, nieces: Cynthia Womack , Donna (Kelly) Ragland, Donna Adams, Shelley (Bryan) Fulgham, Linda (Bruce) Sisk, Charie Abbe, Michele (Bill) Manning, Marilyn (Dick) Winter, DeLana Slone, Tammy (Ken) Robbins, Valerie (Steve) Weilert, Nicole (Britt) Eslinger, nephews: Johnny Jackson, Mike Abbe, Russ (Denice) Abbe, Scott (Kim) Mullins, Kent (Elaine) Abbe, Brad Laffoon, Danny Hestand. Uncle Tom is also survived by many "special" great nieces and nephews that loved him.
The family suggests memorials be sent to a charity of choice or to Northside Baptist Church at P.O. Box 101 Abernathy, TX 79311.