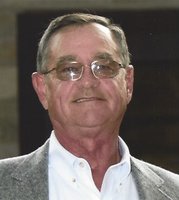 Charles E. Seymour
Graveside services for Charles E. Seymour, 71, of Lubbock, TX, will be held at 10:00 am Saturday, November 25, 2017, in the Strip-Pearce Chapel Cemetery, Abernathy, TX. The family will gather to receive friends at Abell Funeral Home from 6:00 pm until 7:30 pm , Friday, Nov. 24th.
Mr. Seymour died Tuesday, November 21, 2017, in Lubbock.
He was born October 18, 1946 in Ft. Wayne, IN to Charles and Helen Marie (Carpenter) Seymour. He graduated Shallowater High School in 1967 and moved to Lubbock in 1970. He married Janie Sue Pearce in Abernathy on August 3, 1972. He was an avid golfer, playing as much as 3 days per week with a group at Shadow Hills Golf Course.
He was preceded in death by his parents and 2 sisters.
He is survived by his wife, Janie Sue Seymour of Lubbock, 3 children, Mendi Seymour-Permenter and husband Jason of Amarillo, TX, Carrie Seymour of Ft. Worth, TX and Corey Seymour and wife Stacy of Lubbock, 3 grandchildren, Skyler Seymour, Alecx Permenter and Harper Seymour, 2 brothers, Thomas Seymour of Ft. Wayne, IN and Dennis Seymour and wife Annette of Lakeside, CA.
The family suggests memorials to the South Plains Kidney Foundation, online donations at Southplainskidney.com, or to the Texas Boys Ranch, Rt. 7, Box 200, Lubbock, TX 79401.